Wigs for hair loss due to chemotherapy or alopecia

The best quality wigs and hairpieces available in the UK
Hair loss is always very distressing. Whether it's due to chemotherapy, alopecia or female pattern hair loss it is devastating for most women
and buying a great quality wig or hairpiece can help restore your confidence.
Finding the right solution to your hair loss can be life-changing. You will benefit from speaking to an expert.
So why not book a consultation with Gary Price an
d discover the options available to you.
High quality lace front wig
Gary Price
Is a hairdresser and stylist with over 40 years of experience, he has designed a variety of looks for clients in the fashion and media industry. Specialising in wig design for over 25 years. Combining these skills with experience as a qualified psychotherapist Gary has a unique combination of skills and is widely regarded as one of the top wig suppliers in the UK.
Gary offers every client a welcoming, reassuring and confidential environment during consultations. 
Currently based in Selfridges, London. He aims to give you the very best advice on the type of wig to suit your individual needs.
He can source any type of wig to suit your budget and needs. Choosing and buying the right kind of wig can be difficult but with expert advice, it is much easier.
Bespoke wigs can also be designed to your specification. Including full lace fronts, Dermalite wigs, hand-tied wigs or even recreating a synthetic wig in beautiful European or Remy hair.
Your consultation will also include full instructions on the aftercare and maintenance of wigs.
Creating a natural look
It is really important for any hair replacement system to look and to feel as natural as possible, so you will be shown how to apply your wig or hairpiece to achieve the best result. 
Every client is different, which is why all of the wigs are fitted and
customised to your needs, whether it's for a medical application such as a ready to wear wig, for use while undergoing chemotherapy. Or a fully customised bespoke wig for those who have alopecia totalis.
Human hair lace front wig with rooted colour
Every wig is crafted from high-quality human hair or the finest, most realistic synthetic materials.
All of the wigs and hairpieces are hand-picked from the best wig manufacturers around the world.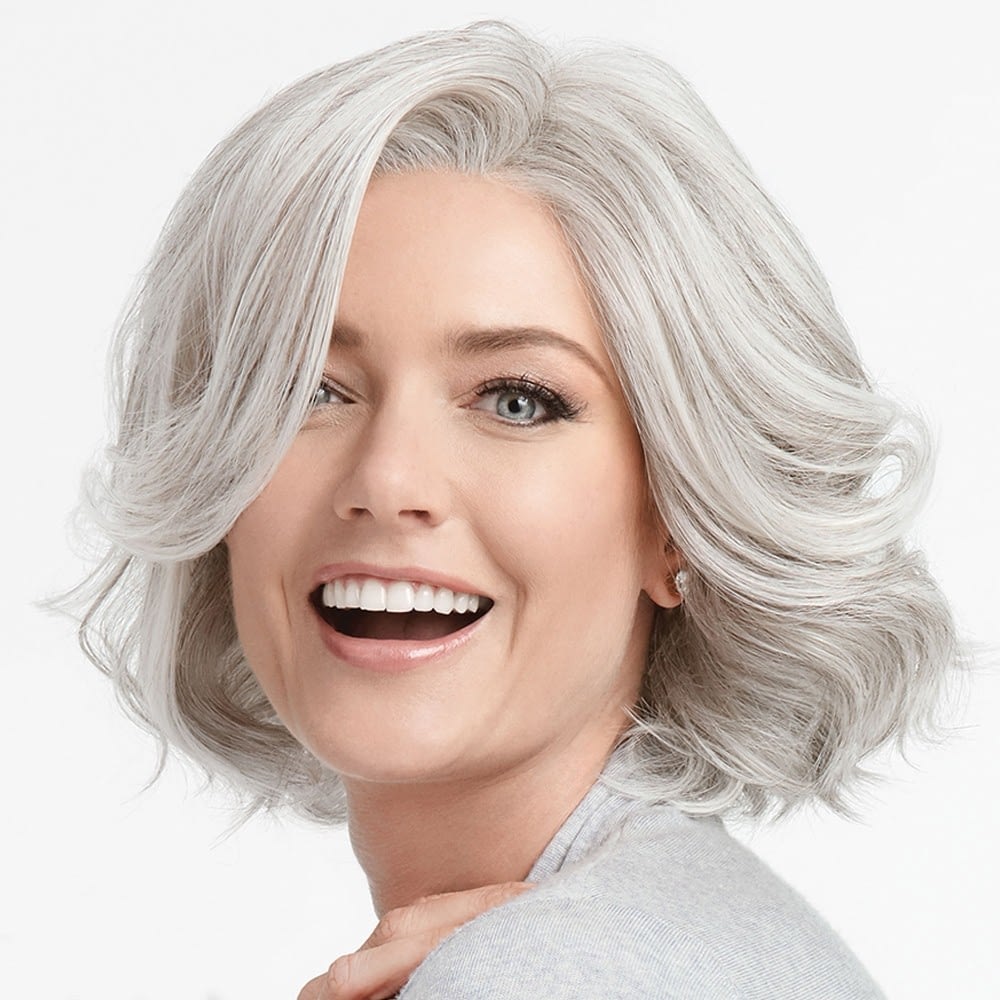 Synthetic fibre lace front wig.
Lace front wigs
Ready to wear lace front wigs can be selected, fitted and styled in a short time frame. If a colour and style match is in stock you can purchase it on the same day as your consultation.
Hair toppers for thinning hair
If you are experiencing hair thinning or partial hair loss, human hair enhancers or real hair toppers may be the ideal solution for you.
Offering both ready-made and custom made pieces, which when applied are virtually indistinguishable from your own hair and can add density and length to your existing hair.
Please use the form below for enquiries or to book a consultation.
There is a £50.00 consultation fee for the first consultation