Choosing a wig from a wig supplier for the first time can seem overwhelming and confusing. There are so many types and styles to choose from it is extremely difficult to buy a good quality wig online.
It is advisable to always seek out a reputable wig consultant for guidance and advice. Buying wigs online can be extremely disheartening but don't despair this basic guide to buying good quality wigs will explain the main types of wigs suitable for hair loss caused by cancer treatments, alopecia and female pattern hair loss.
The terminology used to describe the various wig types, how they are made, and the different price points just add to the confusion. So, let's first look at the three main types of wigs and why they may look and feel different.
Wefted wigs
Wefted wigs are machine-made, most wig suppliers stock a wide range of synthetic wigs. They are the cheapest wigs to manufacture and therefore the most inexpensive to buy. Wefted wigs often have a fabric base which can feel a little too thick for some wearers. Traditionally wefted wigs contain the thickest density of synthetic hair, which is ideal if your natural hair is thick or coarse. A wefted wig will also have more volume, for those that require a very full hairstyle a traditional fully wefted version is often the best choice. The root of the wig may appear crimped, this is to help disguise the fabric of the base and also creates root lift. This type of wig will have a set style and no parting.
If you like a style with lots of volume and texture this type of wig would be your perfect choice. Some wefted wigs are made with a monofilament parting, this means the parting area has the synthetic fibres knotted into a fine semi-transparent net in order to create a more natural parting.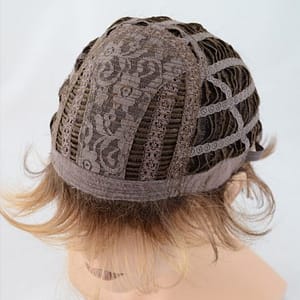 Monofilament wigs
Monofilament wigs are one of the most popular choices due to the comfort of the base and the natural appearance of the scalp area. This type has the hairs, or synthetic fibres individually knotted into a sheer mesh cap. Monofilament wigs vary in price because some have hand-tied partings and crowns. This creates a very natural scalp and hair, or fibre will have a realistic appearance. Unlike a wefted wig, the hair on a monofilament one can be moved in different directions and usually, the parting can be moved from one place to another.
It is important to note that some wigs are made of a combination of wefting and monofilament, this means the cost will vary, an experienced consultant will be able to explain which wig will be the most suited to your style and budget.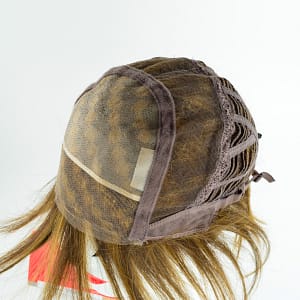 Double monofilament wigs
A double monofilament, lace front wig provides extra comfort and helps prevent scalp irritation and overheating. The scalp appearance on this type of wig simulates the natural hairs' appearance. The double-layer cushions the scalp from the knots of the hair or synthetic fibre. They are the best choice for those with sensitive scalps.
Hand-knotted wigs
This type of wig has every hair or fibre knotted individually by hand creating a lightweight and realistic appearance.
This is my preferred choice of wigs for clients due to it's realistic hairline created by a fine lace front and that the parting and hair direction can be easily moved.

A hand-tied wig is the most comfortable to wear and recreates the appearance of natural hair growing from the scalp. The individual hairs are tied to a very soft, stretch net resulting in a very gentle but secure fit. If your main concerns are fit and comfort a hand-knotted wig is the perfect choice
Lace front wigs
Each type of wig mentioned above may also have a lace front which gives the impression of a perfectly natural hairline. Lace or monofilament tops are often transparent, this means if there is no hair underneath your own skin tone will show through.
For anyone who has complete hair loss due to alopecia or chemotherapy, this type of wig is the most comfortable and realistic. The parting and direction of hair can be easily changed with a hand-knotted wig.
Should you choose synthetic fibre or real hair?
If you are not sure whether to choose synthetic or real hair your wig consultant will guide you to the most suitable option according to your budget, style and length preferences.
Here are a few of the pros and cons of each type of wig.
Advantages of synthetic fibre wigs
• Synthetic wefted construction has the lowest price point
• Easy to care for. Simply wash in warm water and leave to dry naturally, they will fall into style.
• Monofilament synthetic wigs come in a wide variety of different styles, densities and colours. (Grey shades are not usually available in human hair wigs).
Disadvantages of synthetic fibre wigs
• On average a synthetic wig will need to be replaced after 6 months. Longer styles may need replacing after just 3-4 months of constant wear.
• A fully wefted synthetic version may be heavy and dense
• Most synthetic fibre wigs cannot be heat styled. There are a few heat styleable synthetic fibres available on the market, they can only be blow-dried or heat-styled with temperature controlled appliances such as tongs or straighteners that have temperature dials that are used to reduce the heat. High heat will permanently damage or melt the fibres completely.
Advantages of real hair wigs
The feel of real hair can vary according to the origins of the hair. An experienced consultant can help you find the closest texture hair according to ethnicity and hair type.
Human hair wigs will last much longer than synthetic fibre ones. On average a human hair wig will need replacing after a year of constant use. The longevity depends on the aftercare being followed correctly. High temperature appliances and harsh products will shorten the life span of real hair.
High grade hair types are easy to maintain. Low grade human hair wigs can be purchased cheaply online but the quality makes them difficult to maintain & style and they rarely last more than 6 months.
Good quality hair can be toned and made darker but not lightened. We strongly advise against attempting to colour a human hair wig at home.
Real hair wigs can be cut, blow dried, and styled with curling tongs or straightening irons.
Disadvantages of real hair wigs
Sometimes the cost may seem prohibitive as human hair wigs can cost three or four more times the amount a synthetic wig costs. However, in balance over the course of a year, the cost of 2 to 3 hand knotted synthetic wigs is equal to the cost of one good quality human hair wig.
There is a misconception that human hair wigs are harder to manage but it really depends on the quality of the hair and how it has been processed. A poor quality wig will be made from hair that has had the cuticle removed in an acid bath, rendering it dry and porous. A wig made from good quality hair will have at least 50% of the cuticle left intact. Therefore will look good even when left to dry naturally. It will also retain its colour far longer than a wig that has been stripped in acid.
Proper aftercare and styling must be carried out to maintain the condition. A wig consultant will provide all aftercare instructions and advise on the appropriate products for washing and conditioning your wig.
Those who have previously had very fine hair may find that human hair wigs appear too thick and voluminous, in this situation light density monofilament base with a mixture of synthetic and real hair may be a better option. Many wigs are now made with 30% real hair and 70% heat stylable fibre.
Gary Price is one of the leading wig suppliers in the uk. Providing the best quality wigs available. Collections include real hair wigs, lace front wigs, hand knotted wigs, wigs for cancer patients, ready to wear wigs and hair toppers.
For further information or to request a consultation please contact me